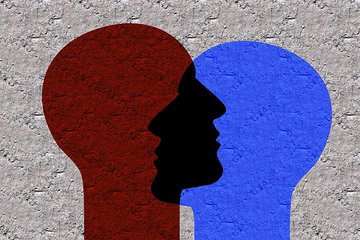 To follow up on part one of this topic of our identity in Christ, I'd like to offer you a more extensive, although by no means exhaustive, list of some of the many wonderful privileges, benefits, gifts and abilities that when appropriated by us help refine how we reflect the Lord's Spirit to others.1
Why should we work so hard to discover and develop our identity in Jesus? There are the obvious benefits of greater faith and confidence through knowing who we are in Him and that we are unconditionally loved by Him. There is, however, an even more compelling reason: the more our identity in Him develops, the more it becomes evident to others.
As others see these positive manifestations of God's Spirit in us, they will desire those qualities in their lives. This may be the starting point for those who haven't received Jesus to desire to know Him, grow closer to Him, and begin the process of building their own identity in Christ.
As you absorb His Word, and His Spirit works in your heart and life through your words and actions, you can become all that Jesus has promised you can be both in this life and the life to come.
What I am in Christ
I am alive with Christ. "But God, being rich in mercy, because of the great love with which he loved us, even when we were dead in our trespasses, made us alive together with Christ—by grace you have been saved—and raised us up with him and seated us with him in the heavenly places in Christ Jesus."—Ephesians 2:4–6

I am an ambassador for Christ. "Therefore, we are ambassadors for Christ, God making his appeal through us. We implore you on behalf of Christ, be reconciled to God."—2 Corinthians 5:20

I am reconciled with God. "For God was pleased to have all his fullness dwell in him, and through him to reconcile to himself all things, whether things on earth or things in heaven, by making peace through his blood, shed on the cross. Once you were alienated from God and were enemies in your minds because of your evil behavior. But now he has reconciled you by Christ's physical body through death to present you holy in his sight, without blemish and free from accusation."—Colossians 1:19–22 NIV

I am at peace with God. "Therefore, since we have been justified by faith, we have peace with God through our Lord Jesus Christ."—Romans 5:1

I am forgiven. "In whom we have redemption, the forgiveness of sins in accordance with the riches of God's grace."—Ephesians 1:7

I am holy and blameless in Jesus' eyes. "Even as he chose us in him before the foundation of the world, that we should be holy and blameless before him in love."—Ephesians 1:4

I am Jesus' friend. "No longer do I call you servants, for the servant does not know what his master is doing; but I have called you friends, for all that I have heard from my Father I have made known to you."—John 15:15

I am adopted as God's child. "The Spirit you received does not make you slaves, so that you live in fear again; rather, the Spirit you received brought about your adoption to sonship. And by him we cry, 'Abba, Father.'"—Romans 8:15 NIV

I am a unique creation of God. "He who has an ear, let him hear what the Spirit says to the churches. To the one who conquers I will give some of the hidden manna, and I will give him a white stone, with a new name written on the stone that no one knows except the one who receives it."—Revelation 2:17

I am the bride of Christ. "Wherefore, my brethren, ye also are become dead to the law by the body of Christ; that ye should be married to another, even to him who is raised from the dead, that we should bring forth fruit unto God."—Romans 7:4 KJV

I am strengthened by God's power to have all the endurance and joy-filled patience I need. "May you be strengthened with all power, according to his glorious might, for all endurance and patience with joy."—Colossians 1:11 HCSB

I am a new person. "Therefore if any man be in Christ, he is a new creature: old things are passed away; behold, all things are become new."—2 Corinthians 5:17 KJV

I am a child of light and not of darkness. "For you are all children of light, children of the day. We are not of the night or of the darkness."—1 Thessalonians 5:5

Jesus' righteousness dwells in me. "And be found in him, not having a righteousness of my own that comes from the law, but that which comes through faith in Christ, the righteousness from God that depends on faith."—Philippians 3:9

I am free forever from condemnation. "There is therefore now no condemnation for those who are in Christ Jesus."—Romans 8:1

I am chosen and dearly loved by God. "For we know, brothers loved by God, that he has chosen you."—1 Thessalonians 1:4 "To the praise of the glory of his grace, wherein he hath made us accepted in the beloved."—Ephesians 1:6 KJV

I am a dwelling place for God's Spirit. "Don't you know that you yourselves are God's temple and that God's Spirit dwells in your midst?"—1 Corinthians 3:16 NIV

I am free from the law of sin and death. "For the law of the Spirit of life has set you free in Christ Jesus from the law of sin and death."—Romans 8:2

I am more than a conqueror. "In all these things we are more than conquerors through him who loved us."—Romans 8:37

I am an eternal being with an inheritance of eternal riches. "According to his great mercy, he has caused us to be born again to a living hope through the resurrection of Jesus Christ from the dead, to an inheritance that is imperishable, undefiled, and unfading, kept in heaven for you, who by God's power are being guarded through faith for a salvation ready to be revealed in the last time."—1 Peter 1:3–5

I am great because He gives me greatness."You have given me the shield of your salvation, and your right hand supported me, and your gentleness made me great."—Psalm 18:35

I am called to be a saint. "To the church of God that is in Corinth, to those sanctified in Christ Jesus, called to be saints together with all those who in every place call upon the name of our Lord Jesus Christ, both their Lord and ours."—1 Corinthians 1:2 "To the saints and faithful brothers in Christ at Colossae: Grace to you and peace from God our Father."—Colossians 1:2

I am a member of a royal priesthood. "But you are a chosen race, a royal priesthood, a holy nation, a people for his own possession, that you may proclaim the excellencies of him who called you out of darkness into his marvelous light."—1 Peter 2:9

I am a messenger of reconciliation. "All this is from God, who through Christ reconciled us to himself and gave us the ministry of reconciliation; that is, in Christ God was reconciling the world to himself, not counting their trespasses against them, and entrusting to us the message of reconciliation."—2 Corinthians 5:18–19

I am a citizen of heaven. "But our citizenship is in heaven, and from it we await a Savior, the Lord Jesus Christ."—Philippians 3:20
What I can do in Christ
God's power can work through me. "Of this gospel I was made a minister according to the gift of God's grace, which was given me by the working of his power."—Ephesians 3:7

I can become a partaker of His divine nature. "His divine power has granted to us all things that pertain to life and godliness, through the knowledge of him who called us to his own glory and excellence, by which he has granted to us his precious and very great promises, so that through them you may become partakers of the divine nature, having escaped from the corruption that is in the world because of sinful desire."—2 Peter 1:3–4

I can stand firm in the day of evil. "Therefore take up the whole armor of God, that you may be able to withstand in the evil day, and having done all, to stand firm."—Ephesians 6:13

I am united with other believers. "Only conduct yourselves in a manner worthy of the gospel of Christ, so that whether I come and see you or remain absent, I will hear of you that you are standing firm in one spirit, with one mind striving together for the faith of the gospel."—Philippians 1:27 NAS

I can approach God with boldness, freedom and confidence through Jesus. "In whom we have boldness and access with confidence through our faith in him."—Ephesians 3:12

I am authorized by God to make disciples of all nations. "And Jesus came and said to them, 'All authority in heaven and on earth has been given to me. Go therefore and make disciples of all nations, baptizing them in the name of the Father and of the Son and of the Holy Spirit, teaching them to observe all that I have commanded you. And behold, I am with you always, to the end of the age.'"—Matthew 28:18–20

I am able to face and overcome everything in life through Jesus. "I can do all things through him who strengthens me."—Philippians 4:13

As one of God's chosen I can put on compassion, mercy, kindness, humility, and patience. "Put on then, as God's chosen ones, holy and beloved, compassionate hearts, kindness, humility, meekness, and patience."—Colossians 3:12

I have the power to persevere. "Press on toward the goal for the prize of the upward call of God in Christ Jesus."—Philippians 3:14

I can share what Jesus has done for me with others. "But you will receive power when the Holy Spirit has come upon you, and you will be my witnesses in Jerusalem and in all Judea and Samaria, and to the end of the earth."—Acts 1:8

I can mature spiritually. "Rather, speaking the truth in love, we are to grow up in every way into him who is the head, into Christ."—Ephesians 4:15

I can have a new attitude and a new lifestyle. "Assuming that you have heard about him and were taught in him, as the truth is in Jesus, to put off your old self, which belongs to your former manner of life and is corrupt through deceitful desires, and to be renewed in the spirit of your minds, and to put on the new self, created after the likeness of God in true righteousness and holiness."—Ephesians 4:21–24

I can forgive others. "Be kind to one another, tenderhearted, forgiving one another, as God in Christ forgave you."—Ephesians 4:32

I can give thanks for everything. "Giving thanks always and for everything to God the Father in the name of our Lord Jesus Christ."—Ephesians 5:20

I can in humility yield to others. "Submitting to one another out of reverence for Christ."—Ephesians 5:21
What I know in Christ
I am assured all things will work together for good. "And we know that for those who love God all things work together for good, for those who are called according to his purpose."—Romans 8:28

God will perfect the work He has begun in me. "And I am sure of this, that he who began a good work in you will bring it to completion at the day of Jesus Christ."—Philippians 1:6

I can discover what God's will in my life is. "Do not conform to the pattern of this world, but be transformed by the renewing of your mind. Then you will be able to test and approve what God's will is—his good, pleasing and perfect will."—Romans 12:2 NIV

I can keep going no matter what, through God's power in me. "But we have this treasure in jars of clay to show that this all-surpassing power is from God and not from us. We are hard pressed on every side, but not crushed; perplexed, but not in despair; persecuted, but not abandoned; struck down, but not destroyed. We always carry around in our body the death of Jesus, so that the life of Jesus may also be revealed in our body."—2 Corinthians 4:7–11 NIV

Jesus has sent me to the world with a mission. "As you sent me into the world, so I have sent them into the world."—John 17:18
For more writings by Maria Fontaine, visit Directors Corner.
---
Footnotes
1 All verses are from ESV unless otherwise noted.