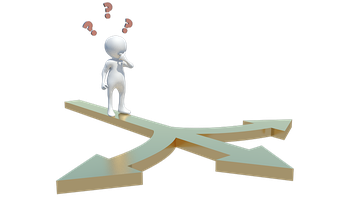 Definition: The act of selecting freely after careful consideration.
For Christians, decision making is synonymous with finding the will of God.
Psalm 25:4,5,9 Shew me Thy ways, O Lord; teach me Thy paths. 5 Lead me in Thy truth, and teach me: for Thou art the God of my salvation; on Thee do I wait all the day. 9 The meek will He guide in judgment: and the meek will He teach His way. [See also Psalm 86:11.]
Psalm 27:11 Teach Me Thy way, O Lord, and lead me in a plain path, because of mine enemies.
Psalm 143:10 Teach me to do Thy will; for Thou art my God: Thy Spirit is good; lead me into the land of uprightness. [See also Psalm 25:4,5]
Not leaning to our own understanding is a key to making Spirit-led decisions.
Proverbs 3:5,7a Trust in the Lord with all thine heart; and lean not unto thine own understanding. 7a Be not wise in thine own eyes.
Proverbs 14:12 There is a way which seemeth right unto a man, but the end thereof are the ways of death.
Proverbs 19:21 There are many devices in a man's heart; nevertheless the counsel of the Lord, that shall stand.
Isaiah 55:8,9 For My thoughts are not your thoughts, neither are your ways My ways, saith the Lord. 9 For as the heavens are higher than the earth, so are My ways higher than your ways, and My thoughts than your thoughts.
Mature decisions are based on spiritual considerations and goals, rather than solely upon physical circumstances and concerns or personal desires.
2 Corinthians 4:18 While we look not at the things which are seen, but at the things which are not seen: for the things which are seen are temporal; but the things which are not seen are eternal.
Colossians 3:2 Set your affection on things above, not on things on the earth.
Hebrews 11:24-26 By faith Moses, when he was come to years, refused to be called the son of Pharaoh's daughter; 25 Choosing rather to suffer affliction with the people of God, than to enjoy the pleasures of sin for a season; 26 Esteeming the reproach of Christ greater riches than the treasures in Egypt: for he had respect unto the recompence of the reward.
The Lord has promised to guide us.
Psalm 25:12 What man is he that feareth the Lord? Him shall He teach in the way that He shall choose.
Psalm 32:8 I will instruct thee and teach thee in the way which thou shalt go: I will guide thee with Mine eye.
Psalm 37:4 Delight thyself also in the Lord; and He shall give thee the desires of thine heart.
Psalm 84:11b No good thing will He withhold from them that walk uprightly.
Jeremiah 29:11 For I know the thoughts that I think toward you, saith the Lord, thoughts of peace, and not of evil, to give you an expected end.
Luke 12:32 Fear not, little flock; for it is your Father's good pleasure to give you the Kingdom.
Romans 8:28 And we know that all things work together for good to them that love God, to them who are the called according to His purpose.
One of the main principles involved in reaching a decision: Pray for the Lord's guidance.
Job 5:8 I would seek unto God, and unto God would I commit my cause.
Psalm 37:5 Commit thy way unto the Lord; trust also in Him; and He shall bring it to pass.
Proverbs 3:6 In all thy ways acknowledge Him, and He shall direct thy paths.
Proverbs 16:3 Commit thy works unto the Lord, and thy thoughts shall be established.
Isaiah 30:21 And thine ears shall hear a word behind thee, saying, This is the way, walk ye in it, when ye turn to the right hand, and when ye turn to the left.
John 16:13 Howbeit when He, the Spirit of truth, is come, He will guide you into all truth: for He shall not speak of Himself; but whatsoever He shall hear, that shall He speak: and He will shew you things to come.
Colossians 1:9b Pray ... that ye might be filled with the knowledge of His will in all wisdom and spiritual understanding.
James 1:5 If any of you lack wisdom, let him ask of God, that giveth to all men liberally, and upbraideth not; and it shall be given him.
Sound decisions are based on the Word of God.
Psalm 119:105 Thy Word is a lamp unto my feet, and a light unto my path.
Psalm 119:24 Thy testimonies also are my delight and my counsellors.
Psalm 119:133a Order my steps in Thy Word.
Proverbs 6:22,23 When thou goest, it [the Word] shall lead thee; when thou sleepest, it shall keep thee; and when thou awakest, it shall talk with thee. 23 For the commandment is a lamp; and the law is light; and reproofs of instruction are the way of life.
Matthew 7:24,25 Therefore whosoever heareth these sayings of Mine, and doeth them, I will liken him unto a wise man, which built his house upon a rock: 25 And the rain descended, and the floods came, and the winds blew, and beat upon that house; and it fell not: for it was founded upon a rock.
Romans 2:18 And knowest His will, and approvest the things that are more excellent, being instructed out of the law.
2 Timothy 3:16 All Scripture is given by inspiration of God, and is profitable for doctrine, for reproof, for correction, for instruction in righteousness.
Seeking godly counsel from others often leads to sounder, wiser decisions.
Proverbs 11:14 Where no counsel is, the people fall: but in the multitude of counsellors there is safety.
Proverbs 12:15 The way of a fool is right in his own eyes: but he that hearkeneth unto counsel is wise.
Proverbs 15:22 Without counsel purposes are disappointed: but in the multitude of counsellors they are established.
Proverbs 20:18 Every purpose is established by counsel: and with good advice make war.
The final test for our decisions should be: Is it loving?
Romans 13:9b,10 If there be any other commandment, it is briefly comprehended in this saying, namely, Thou shalt love thy neighbour as thyself. 10 Love worketh no ill to his neighbour: therefore love is the fulfilling of the law.
1 Corinthians 16:14 Let all your things be done with [love].