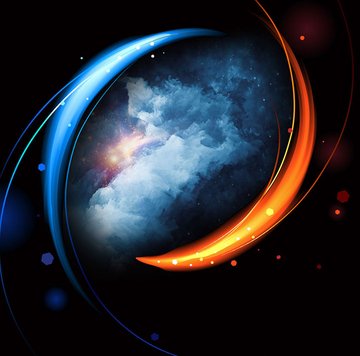 So many people today are worried about the future, wondering what's going to happen. Most of today's youth seem to almost instinctively realize that they are living on borrowed time. After all, we are the first generation that has had to live with the knowledge that we could completely destroy ourselves. People want to know what to do about it, or if there is any way to avoid it or prepare for it, to survive it.
Psychologists tell us that uncertainty and the fear of the unknown is the worst fear of all—not knowing what's going to happen. It's sad that so few people realize that they can know the future, that they can know what's going to happen—accurately and in detail. Even the exact number of years, months, and days of parts of it.
How could this be? By what means can mortal man possibly transcend the bounds of time and peer into the future? By tuning in to God and His wonderful Word, the Bible. For He alone is the great "I AM," who dwells in the eternal now where there is no past nor future and "time shall be no more" (Revelation 10:6). It all looks the same to God, and He can easily reveal to His prophets and seers the mysteries of the future. "For surely the Lord God will do nothing, but He revealeth His secret unto His servants the prophets" (Amos 3:7).
"For thus saith the high and lofty One that inhabiteth eternity, whose name is Holy: Behold, the former things are come to pass, and new things do I declare: before they spring forth I tell you of them. For I am the Lord: I will speak, and the word that I shall speak shall come to pass; for I say the word, and will perform it, saith the Lord God" (Isaiah 57:15; 42:9; Ezekiel 12:25).
"Seek ye out of the book of the Lord, and read: no one of these shall fail, none shall want her mate: for My mouth it hath commanded them" (Isaiah 34:16). The mate of every prophecy is its fulfillment. God's Word finds its mate in fulfilled Bible prophecy, and the ones which have already occurred and been fulfilled, foretold hundreds of years in advance, have been fulfilled. Every prophecy the Bible has uttered has been fulfilled except the ones that are yet to come, and they'll be fulfilled just as surely as the ones that have been fulfilled in the past.
It's a marvelous, thrilling study to deal with fulfilled prophecies, and it encourages your faith to know that those regarding the future will be fulfilled just as accurately and just as perfectly and just as surely as every prophecy of the past. But we are particularly interested in those which are yet to be fulfilled.
You'll find that God's Word is specific and clear. Its prophecies tell you exactly who and where and even when. So if you've been wondering, "Where did we come from? Where are we going? What's happening?" this wonderful book, the Bible, tells you all about it, exactly what's going to happen. You don't have to worry about it; you don't have to fear. You don't have to guess at it. It's all here just as plain as can be.
"For that that is determined shall be done" (Daniel 11:36). What God has determined and prophesied, He's going to do. Whatever God has said He's going to do, He is going to do. Not one shall lack her mate. Not one prophecy shall be without fulfillment; every single one shall be fulfilled.
"We have also a more sure word of prophecy; whereunto ye do well that ye take heed, as unto a light that shineth in a dark place, until the day dawn, and the day star arise in your hearts: Knowing this first, that no prophecy of the scripture is of any private interpretation. For the prophecy came not in old time by the will of man: but holy men of God spake as they were moved by the Holy Ghost" (2 Peter 1:19–21).
"And now I have told you before it come to pass, that, when it is come to pass, ye might believe. Heaven and earth shall pass away, but My words shall not pass away" (John 14:29; Matthew 24:35).
God has warned us time and again almost since the beginning of man, and certainly throughout the Bible, that there's coming an end to things as far as man's rule on this earth is concerned, and that his governments are going to eventually end so that God can set up His heavenly kingdom of peace on earth. God has given man thousands of years to try to solve his own problems and run the world and bring peace and happiness, and he has brought nothing but war and misery. God has given man his chance and he has done nothing but make a mess of the world. And now, finally, man is able to destroy it. If God did not step in and intervene in this last hour of history, man could completely destroy it and totally annihilate himself.
Read the entire Book of the Future here.