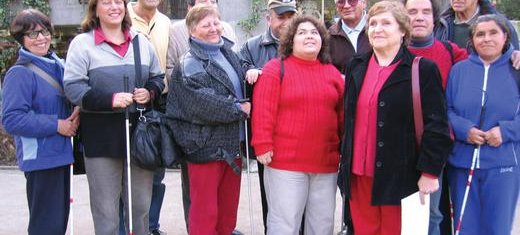 Over the last ten years, our missionary center has carried out a ministry to the blind in Santiago, Chile. We get together to read from Conéctate (Activated) magazines, have Bible classes, fellowship, and enjoy recreational activities. In the beginning, our numbers were small, but we always told our friends that even if there was only one attendee, it was worth our while. Little by little, the group grew, and now there are anywhere from a dozen to twenty guests at every meeting.
Apart from our regular meetings, we organize outdoor activities to enable members of the blind community to try out new experiences in an adapted and safe environment. Twice every summer, we arrange free entry for them and their families at the municipal swimming pool. We also regularly take smaller groups for a day at the beach. We go to a small cove surrounded by pine-covered hills, where the water is quite warm. (In Chile, the ocean is generally ice cold because of the Humboldt Current, which comes from Antarctica.)
On another occasion, we took some to the mountains to experience the snow, and we all enjoyed a picnic on the slopes. Our blind friends also attended a custom-made and free-of-charge motivational seminar led by Family International volunteer Janet, who was visiting from Peru.
It's an inspiration to see how all of these dear people are overcoming their disability, and are growing in learning about God's Word and getting closer to the Lord. "Blessed are the pure in heart, for they shall see God" (Matthew 5:8).
Originally Published in 2007.