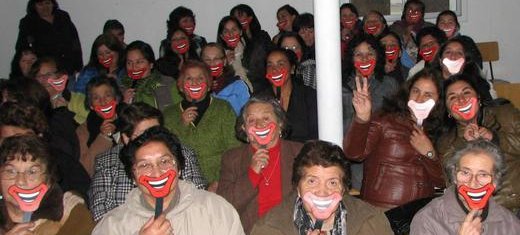 "It's one thing to overcome adversity, but it's very different to come out strengthened from it, that's resiliency."
This basic concept was the starting point of our workshop, "Practical Tools for Resilience."
We recently held a seminar for a group of 70 women, with the objective of helping them deal with their fears, emotions and inner conflicts. It's been more than 18 months since the 8.8 degree earthquake and subsequent tsunami hit central Chile. Many of the people in the coastal towns are suffering from Post Traumatic Stress Disorder. These symptoms are especially aggravated in the cases of families who are still living in precarious conditions, have not recuperated their source of income, or have lost loved ones. This stress also surfaces through conflicts within the camps, etc.. Many people feel stretched to the limit, and have lost patience in dealing with issues that arise daily.
With the help of a Christian sociologist, we were able to cover the following topics:
Resilience—its meaning and strategy
Finding (and giving) support
The therapy of gratitude
The importance of a good sense of humor
Defeating fear
Defining our true objectives
Strategies for getting along with others
Divine help
In this all-day seminar, we laughed, cried, danced, sang, expressed our fears and opened up our hearts.
There was a delicious lunch served (serenade included) and afterwards we took time to speak with some of the attendees personally. They each also received a practical motivational book called "From Jesus, with Love—Success with People."
The women all left with lighter hearts and fresh outlooks, asking that we repeat the seminar for their husbands. We are now making preparations for another trip to Constitución, where we hope to repeat the seminar and conduct a "follow-up" session with our first attendees.
This is proving to be a wonderful opportunity to, not merely help with the physical reconstruction of Constitución, but also with the rebuilding of its people's lives and hearts.
Originally Published in 2011.