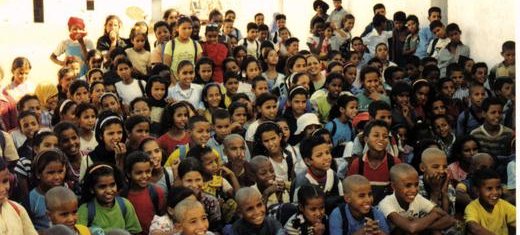 We recently made our fourth trip in as many years to bring humanitarian aid to Saharaui refugees in western Algeria. Nearly 300,000 Saharauis live in four camps in an area that is so dry and barren that they are the first known inhabitants. Refugees from the disputed area of Western Sahara, the Saharauis operate as a country in exile, with their own schools, hospitals, and elected government.
On each of our visits, we take donations of educational materials and organize games and other activities in some of the schools. This time we also distributed over 1,000 toys and other gifts. Always especially prized are Family-produced books, audiotapes, and videos for children. When we aren't able to make the trip ourselves, we send the donations of food, clothing, school materials, and other relief with truckloads of aid from other organizations in Spain.
On this trip, we traveled by Jeep for about 200 km (125 mi) without roads through the desert to get to the camp in Dajla, home to 40,000 Saharauis. When we arrived at 2 am, the ever-hospitable Saharauis prepared dinner and tea for us. We were welcomed just as enthusiastically at the other two camps we visited this time.
We are now planning to help the Saharauis open a cultural and sport center, and have begun finding sponsors to provide the needed books, computers, video players, crafts materials, sports equipment, etc.
Originally Published in 2002.