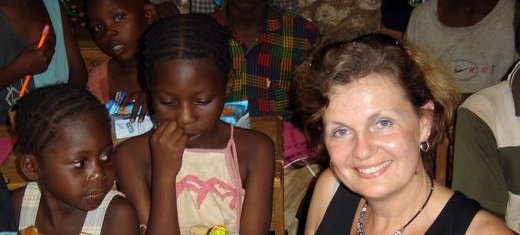 We met Michael and his brother, Steven, seven years ago in Mombassa. They came to our door after they had received a call from the Lord to start a work with children in one of the local slums. Their hearts went out to the poor and needy, and after they had left their places of employment, they were ready to step out by faith to heed God's call. They were referred to us by a friend who knew about our missionary work.
While we receive all kinds of requests, as the need in Africa is so great, when first talking to Michael and Steven we knew that there was something exceptional about them. Their sincere desire to do something for the Lord and their stepping out by faith to do it touched our hearts. We adopted their project and for four years worked alongside Michael and Steven while in Mombassa. Together we managed to enrol 20 children in private schools through local sponsorship, while providing daily tutoring for 70 others. We started a Bible club, a daily feeding programme, sponsorship for the team of teachers, rent for the little makeshift school, medical needs, and more.
Recently the team has started Bible classes and counselling for 20 adults, using the 12 Foundation Stones material to teach the basics of Christian faith, as many of their converts are former Muslims or non-believers.
Steven reports, "During these counselling sessions we minister to desperate people who often are addicted to alcohol and drugs. We have also held counselling sessions for women and men with broken marriages. The material and the training we have received from the Family International have enabled us to reach out and make a difference in the lives of many needy people in the coastal region of Kenya."
Following is an excerpt of a report describing the challenges and difficulties they face in their daily teaching ministry in the Bombolulu slum of Mombassa:
Teenage-led Households
Due to poverty, alcoholism, and the HIV/AIDS pandemic, many families have broken up, or parents have died or are battling with ongoing illnesses, thus often leaving a teenager to take care of the household. Such is the case of William, 15 years old, who is taking care of his four brothers. The Family International found a sponsor for William's education. Now after school William hurries home to take care of the household and his younger brothers. Thankfully the younger ones are part of the Olives Rehabilitation Centre programme and receive free schooling and a daily meal.
This is not an isolated case, and children like these often resort to roaming the streets to find their daily needs and thus become street children.
Alcoholism, Abuse, and Prostitution
The following scenario is not unusual: A single mother of five small children is brewing alcohol in their small, one-room hut. In the evening male clients come to buy her home-made alcoholic beverage. As it gets later, the drinking spree becomes louder and more uncontrolled, ending up in sexual favours being given, voluntarily or involuntarily, while the children are trying to sleep in the same room. These children have to brush shoulders with alcohol, drugs, and sexual abuse on a regular basis, and as a result develop many behavioural and emotional problems.
Due to poverty many women are forced into prostitution, and have numerous children born out of wedlock. These kids end up without parents able to care for them, and are often given away by the desperate mothers. The Olives Rehabilitation Centre provides some of the stability, love, and comfort these children so desperately need and gives them a chance to cope with their lives of hardship.
The Squatter Situation
Many of these children do not have a stable residence and live in squatted homes—having to move frequently—or in very make-shift situations. They often miss school because of these moves. The Olives Rehabilitation Centre helps to fill some of these learning gaps.
Originally Published in 2010.