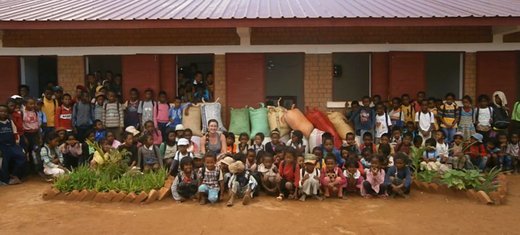 Save the Youth International supplies food for 220 children schooled at the elementary school of the Fenomanana district during the entire duration of the school year. We also provide a monthly supply of food for the orphans and abandoned children of the Centre de Bienfaisance d'Ankadivory (CBA), including rice, grains, eggs, yogurt, vegetables and other food basics. Our team rents nearby fields and provides villagers with seeds and fertilizer to grow their own food.
We taught the villagers of the Masinandriana village how to set up a rural cooperative where they are now growing food and breeding rabbits for their own consumption and to market their produce once they have a surplus.
Our team also built a refectory for the 300+ children being schooled at the CBA so that they can eat their meals in a pleasant and clean atmosphere. We also added a second story to this building, which we partitioned into two dormitories (for boys and girls respectively) for 100 children, and a room for their supervisors. These dormitories were also equipped with new bunk beds and bedding.
Published in 2019.