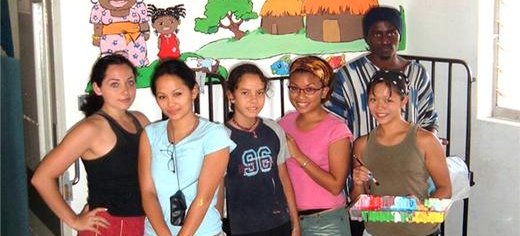 For several months our team accompanied one of our volunteers, Nyx Martinez to the main government hospital in Kampala. We were invited by two overseers of Health Volunteers Oversees who had seen Nyx's art display at the Sheraton Hotel, and offered to sponsor the cost to paint murals to brighten up the pediatric ward of the hospital.
Talking and praying with many of the mothers and their children while painting lively images of animals and comforting angels, was a touching experience for each of us. The project has continued as more volunteers are working with us and offering their talents to help make the surroundings a more beautiful place for these little ones.
After seeing the beautiful murals done in Mulago's pediatric ward, we were asked by the Kenyan Women's Association to help improve a dilapidated, but very worthy orphanage, the "Little Angels", which they had taken on as a project. We have been repairing and painting the walls, which were in a state of disrepair. The orphanage is showing drastic improvement, and the basic painting, murals, and donation of the STEPS character-building programme have been a big boost to the dear children and their small little home.
Originally Published in 2008.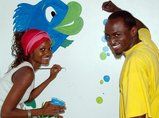 Malaika and volunteer JohnMary painting a mural at Little Angels orphanage, Uganda