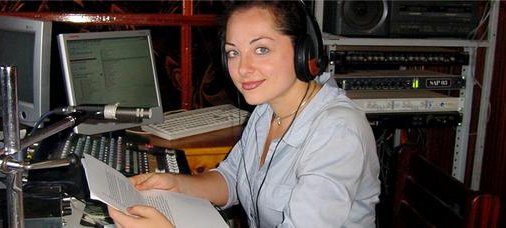 Our late-night radio programme Night Light has been on air nightly for three years now. We have built up a regular listening audience from a wide cross section of Ugandan society—from students and business people to government officials. The show airs at a convenient time; between 9:30 and 11 P.M., when people are winding down after the business of the day. Many listen in every night for inspiration and encouragement before sleep.
The first half-hour of Night Light is mostly music and inspirational short stories. During the second half-hour, we zero in on the main topic for the night, usually taken from Family-produced inspirational materials, or the 12 Foundation Stones Bible course. Then the last half-hour is for prayer requests, counseling, and answering questions.
Our 24-hour prayer line has turned into a ministry of its own. Most people SMS their requests so they can be prayed for during the show. Others send their requests at any time day or night, as the prayer line is open 24/7. We receive prayer requests for varied situations: many of them for jobs, school fees, exam results, and marriage partners. Others are for life-and-death situations, including health problems such as AIDS. Over the past year we have personally prayed and/or counseled over 8,000 listeners, and later we often receive testimonies of how these prayers were answered.
On the show we offer our free 12 Foundation Stones Christian training course. This can either be taken by attending the class in person or e-mail. Some of our graduate students have become gifted 12 Foundation Stones teachers themselves, teaching the entire course in one of the many local languages.
Night Light is streamed over the Internet, and you can listen to it at the website: RadioAct.org. Night Light is on Mondays through Fridays at 9:30 – 11:00 p.m. Ugandan time, or 18:30 – 20:00 GMT. You can also listen to our Get Activated Gospel show on Sunday mornings from 7:00 – 9:00 GMT.
Listener's Reactions to Night Light
"I love this programme because it inspires me. I can't sleep without listening to it, because it has turned my life upside down!" — Gerard
"I like the preaching which is on Night Light. I had a lot of fears in my life, but every evening when I hear the show, my heart is comforted. The programme is doing a lot in my life spiritually." — Agnes
"I usually go to bed with the Word of God. When I listen to Night Light, I get the Word of God in me and I meditate on what you have been saying, and then it all becomes clear to me. So that's why I love Night Light."— Immaculate
"I like Night Light and Get Activated because it is inspirational and enlightening on what God wants us to do." — Lilian
"I love Night Light because it is food for the soul, the best way to relax during the evening and to sleep peacefully at night." — Arthur
"[Night Light] is quite insightful after a long day's work. It is a programme that will really relax you with nice music and Bible insights and topics that will increase your knowledge about God, about Jesus, about the Endtime." — Fred
"I love the inspirational music, the Bible quotations, and all the lessons that we learn from the show." — Richard
"Night Light brings the truth that causes your heart to dance again! The truth and the music will cause the atmosphere of Heaven to come into your house." — Honest David
"I love the inspirational music and the Bible teachings and inspirational stories. It keeps me going after a long day's work. I have something to look forward to listen to in the night." — Alice
"I love the music and the inspiration and all the guests that come on Night Light. I have learned many different things from "Night Light." — Godfrey
"Night Light has been a light to my life! Tune in and there will be no darkness on your way!" — Jimmy
"The music on Night Light ... wow, what can I say? It has all the ingredients! The music on Night Light is like food for the soul. It's comforting. It enlightens you on how to live. It enlightens you on what's to come. It's perfect music. Music on Night Light is a 'must listen to'! It 'does it' for me! I go to bed with it. I wake up with it humming in my brain. Music is my life, and the music on Night Light has changed me a lot. I happen to be a musician, and when I listen to it I get challenged to use my music not only to make people dance, but also to speak a message. So many people can relate to your music. When people hear it, it's more like listening to a sermon. Some of the music is more like listening to the Word of God. Go Night Light music and take it to the next spiritual level! — Arthur K. (Former member of Uganda's top dance group, The Obsessions, and writer of two songs that won Pearl of Africa music awards.)