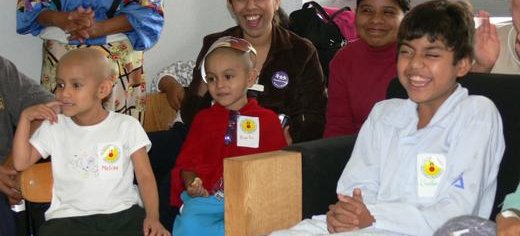 "Dr. Payaso" is a project that we began helping with in early 2005. It is based on "laughter therapy", made famous by Dr. Patch Adams. We have incorporated a lot of material on personal interaction and have put together seminars on the subject that we teach to the medical students. We also give them classes on acting, practice doing skits, teach them how to face paint, and make figurines out of balloons. After we perform our show for all the children, we then go bed-to-bed to visit the children who have more delicate conditions and weren't able to see the show. We spend most of our time talking personally to the children and encouraging their parents, and giving them personal attention.
After almost two years of visiting, we have grown quite close to some of the patients and their parents who have had to be in the hospital for a while to receive treatment. One little girl in particular we met last year (see photo 2), while she was waiting to get an operation for a cleft palate. She was about four years old when we met her and was so excited the first time she saw the clowns and watched the show. She became so attached to them, she never missed one show while she was in the hospital.
She was released and went home after about a month. But she missed the clowns so much, that her and her mother make the trip when they know we will be there, just to see the show. She is our biggest fan; she loves all the songs and sings along with us, and she gets involved in all the games. She is going to school now, but she gets permission from her teacher to be absent once a month so she can go see the show at the hospital.
Originally Published in 2005.