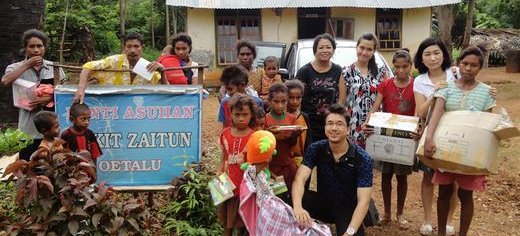 TFI member Angel, along with a dear Korean friend visited two orphanages outside Kupang bringing needed supplies of clothing, shoes, school books, bags and supplies, toys, and character building books for the children. In addition to many needed supplies at the Sonaf Manekat orphanage they also helped with the paying of school fees directly to the schools where the orphans study.
Angel then held an educational seminar for teachers from thirty schools. This lively seminar was based on the theme of "Character Building" in the student's lives and included talks, workshops and an inspirational programs. Each teacher was left with a sponsored set of 20 books, teacher's instructional book and a CD of songs to use with the children.
After programs in Kupang FCI volunteers travelled seven hours across Timor to Atambua to the village school established by TFI members in that area. There they held a seminar for local teachers as well as those from surrounding villages introducing a new "Character Building" course. Angel also set up another new donated computer and library of reading books for the children.
The last day at the school was spent with the children to encourage and inspire them as well as give them stationery and schooling needs.
Originally Published in 2012.