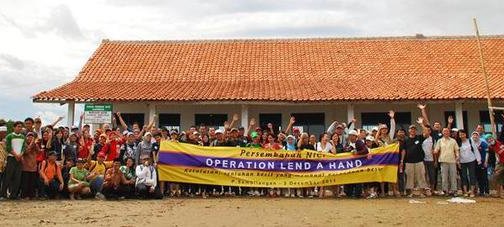 Eighty-five employees of NICI (Nestle Indofood in Indonesia) along with volunteers from TFI visited Pulau Sembilangan to paint the new school building Madrasah Aliyah. Rain or shine everyone was ready for an adventure with life vest, raincoats, and umbrellas as they mounted the eight big boats needed to reach the school.
A variety of activities including cooking, games, English classes, traditional music, arts and crafts had been prepared and were enjoyed by the elementary and high school students.
The results of this event impacted not only the recipients, but also the lives of those who participated in this event. Volunteers from the Nestle expressed gratitude for the opportunity to experience something which will never be forgotten.