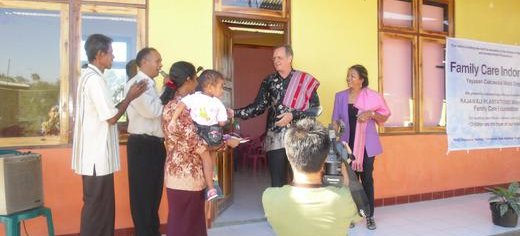 In 2007 TFI member, Angel received several phone calls from a friend concerned about the educational need for families along the Indonesian/Timor Leste border. This spurred her concern and with the help of local sponsors TFI members gathered a variety of educational supplies for the schools there.
Following this, Angel made a trip to the border region and met Ibu Fin, a school teacher. She greatly admired her dedication to teaching along with that of the other volunteer teachers she met. Through the sponsorship of friends in Jakarta the first school building in this area became a reality. TFI volunteers held several educational training seminars for the teachers along with bringing in more donated school supplies.
During another visit to the area in 2010, Ibu Fin explained that many more children wanted to come to the new school but the original building was now too small.
Thanks to many friends and donors, in March 2011 Angel returned again to Atambua to sign the contract for the construction of the second school building.
The second building was finished at the end of April and several TFI volunteers attended the official opening of the new school building.
The School now provides educational opportunities for over 150 families.