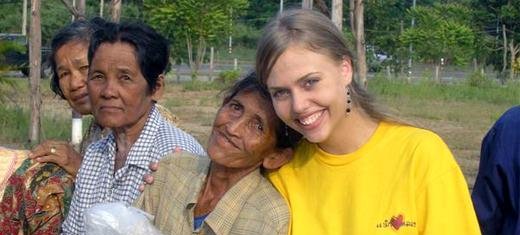 The Family International visited camps which were scattered all over the two main islands affected. Mountain refuges, remote villages, hospitals, and Buddhist temples were all turned into relief centers and centers for missing persons. As we cried with the survivors, prayed for them, and listened to their stories of grief and loss, we sought to bring hope and comfort to help relieve their heartbreak and suffering.
The children's camps for the orphaned were perhaps the most heart-wrenching to visit. Bereft of loved ones and home, they soaked up the songs, the games, the stories and most of all the love, which helped them to slowly adjust to the big challenges that faced them at such a tender age.
Donated supplies collected by the Family arrived by the truckloads throughout the first few weeks of the disaster, supplying the survivors with tons of clothes, bedding, toiletries, diapers, infant milk, food items, medicine, disinfectant, potable water, mosquito nets, and a myriad of other essential items. Each supply trip took from between 10 to 12 hours to reach the affected areas.
Relief efforts continued over the next months as we sent follow-up teams to the villages and camps. Many fishing villages received donated boats, but without engines to run them. Kind friends and donors enabled us to donate several engines to needy families. Friends overseas also contributed toward the building of a school for the orphaned children.
Originally Published in 2004.