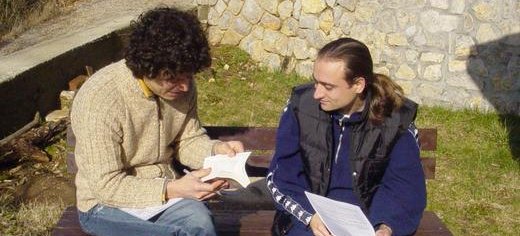 Every Sunday afternoon since September 2005, we have hosted a fellowship for those who want to spend some time away from their daily routine, learn more about the Bible and how to apply its principles to everyday life. We also spend time each week studying the Bible with individuals and counseling them through the various difficult situations they find themselves in.
Here's a comment from one of our students, a 56-year-old hairdresser:
I'm really happy to have had the opportunity to meet you, the Family, here at my hair salon. After I learned from you the beauty of the Gospel, about God's love and how you live it in your everyday lives, my eyes were opened, and I realized that I could also help others in the same way that you've helped me. At my job I have contact with a lot of people, and I've found out that I could understand a lot of them, and give them Jesus and His love to help them through their problems. Now here at work we have a beautiful atmosphere—we don't argue, we don't gossip or complain. And Jesus always sends us clients who need a good word, encouragement, and someone who will listen.
My life has been enriched through the knowledge of Jesus and His love. I've found that I can have a better quality of life, in spite of all my problems, and I want to help others find that same quality of life, as well as teach them how to improve the situation in their homes, families, and surroundings.
It's not easy nowadays to find a place where you are not just a number, but where you really count as a person, and our workplace is just that. I've always loved my job, but never imagined that I could have an even greater fulfillment in it and that I could help people in a spiritual way. I'd love to have this kind of atmosphere in other places too, just like my hair salon, and I'll do my best to transform places wherever I go. I pray that God will give me the strength and help to do so.
Many who attend our seminars and gatherings later on also join us in humanitarian projects, or organize their own. One woman, for example, started a project of collecting packaged gifts from children of well-to-do families, to use as Christmas presents for needy refugee children in the area of Karlovac, which we regularly visit. After she had collected more than 500 such gifts, we distributed them personally to the children and can testify that her project brought joy to a lot of little hearts that year.
Originally Published in 2008.