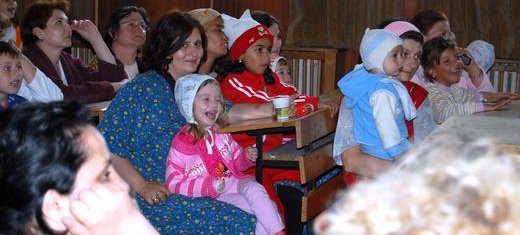 Easter 2009 – Bucharest, Romania
Family volunteers joined efforts in a special Easter drive, making the holiday a memorable experience for many children and elderly in several hospitals and institutions, including Fundeni Oncopediatry Ward, Grigore Alexandrescu Pediatric Hospital, School No. 9 for children with special needs, and Center for Assistance and Support Sf. Vasile. The program consisted of an Easter performance by the NoLimits children's dance troupe, a clown show, and the distribution of gift packages.
After the program, Family members visited room to room to bring encouragement to those who weren't able to attend, distributing gift packages and Activated magazines, as well as sharing a song or a prayer with those in need.
Music is the language of the heart and can truly communicate love, comfort, and inspiration to those facing life's adversities. Participating in these musical programs, one realizes the truth of the saying: "A little bit of love goes a long way." The reality of these words motivates us to do even more for those in need.
Hospital Clown Shows
Over the years we have been actively involved in organizing and performing clown shows for sick children in various hospital wards. Children and adults alike enjoy a moment of joy in an otherwise sober environment. The clowns' tricks, jokes, and balloon sculpture creations cheer up the children, as well as the staff. We visit the children room to room and pray for them, and have experienced how prayer and the words of Jesus can give faith and hope to these precious ones.