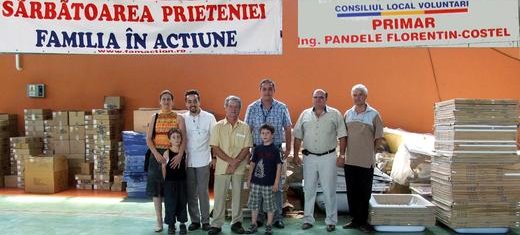 Throughout the year of 2006, we spent approximately 1,200 man-hours soliciting charitable aid from local businesses, picking up donated products, and personally distributing the items to those in need.
We assist 11 poor families regularly with food and items such as shoes, Christmas presents, and other gifts for the children. Recipients include single-parent families, families with disabled members, families with many children, and families that care for orphans.
In our work to motivate others to contribute to their community, we met a businessman who had invested in ten beds and ten desks, with the idea of opening a kindergarten. Since his project didn't come through, he donated them to a kindergarten that we collaborate with, that cares for children with difficult family situations. The directress of the kindergarten was delighted, since the donation came as an answer to her prayers.
Another company donated good quality wooden flooring, which we donated to a center for the mentally disabled. This center is one of the few of its kind in Romania, the private initiative of a mother of a mentally handicapped child.
In 2007 we delivered close to 20,000 euros worth of bathtubs, toilets, sinks, showers, and other bathroom accessories, donated by BRAVO, a large company that we have collaborated with for several years. These donations went to the following needy places in Bucharest and surrounding areas:
Fundatia Pastorul Cel Bun
Complexul Social de Servicii—Urziceni
About 90% of the materials were donated to Voluntari City Hall, to be used in their social institutions, such as a new orphanages, an old folks home, etc.
Originally Published in 2007.