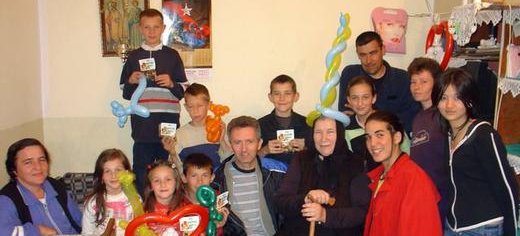 We visited three camps for Kosovo refugees who are living in temporary shelters in southern Serbia, in order to deliver humanitarian aid and do programs for the refugee children.
We arranged one truckful (52 pallets) of humanitarian aid in the form of clothing, shoes, diapers, prams, cots, baby baths, toiletries, bicycles, and assorted toys, to be delivered to 25 collective centers for refugees living in temporary shelters in Southern Kosovo.
This project came about when we received an e-mail from a charity in Ireland. They had previously sent truckloads of aid to Croatia and Bosnia, but also had the desire to help both Serbia and Kosovo.
Our friends from the Irish charity shipped an entire truckful (52 pallets) of aid to Serbia, where the Serbian Red Cross took care of the customs clearance formalities and storage of the aid. Because of the vast amount of aid, the Red Cross took care of the bulk of the distribution, while our team distributed selected items and performed for the children at the different refugee collective centers.
We are thankful for those in the developed countries of the west, particularly this charity, for their understanding of the plight of the poor in this region and how the people have suffered and continue to suffer daily, and for their desire to do what they can to alleviate some of that suffering.
Originally Published in 2006.