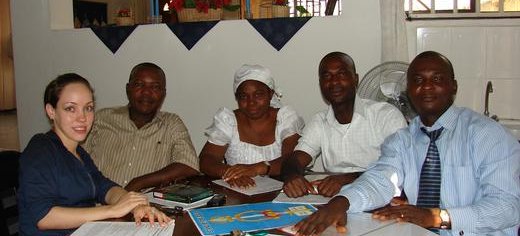 The Family International in Port Harcourt has been teaching the 12 Foundation Stones Bible Course since 2004. The course runs for 6 months with classes taught on a weekly basis.
The purpose of this study course is to give the students a practical and balanced perspective of fundamental Christian principles for everyday living, thus motivating those who take the course to apply these principles, and through this to become leaders in their communities..
To best grasp and apply the class material, study consists of a variety of activities such as: scripture research, personal accounts, anecdotes, discussions and audio and visual aids. To date, over 80 students have graduated successfully.
A correspondence version of the course is regularly sent via email, to those preferring that medium of study. Students are required to fill out and submit a short test per class, to ensure accurate comprehension of the subject matter.
The 12 Foundation Stones course has now gone online and is currently reaching 102 additional students. To date the total number of students who have been enrolled in this course is 949.
During our annual Christmas programme in 2010, several of our graduates shared their experiences of taking the 12 Foundation Stones course with the audience. Most stated how others observed a positive change in their behaviour, attitudes and reactions, after acting on what they learned. Their perspectives and goals also expanded.
In fact, some of these graduates have gone on to teaching the classes themselves, after receiving advanced classes in teaching skills and human relations. They have testified of the growth and development their students are achieving spiritually, morally and socially.
Originally Published in 2011