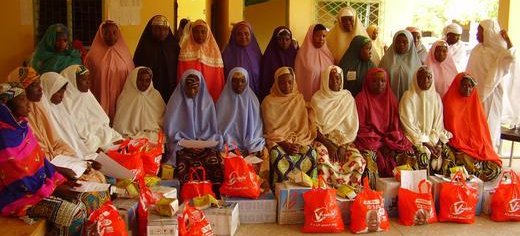 My name is Suwaida Abubukar. I come from a small village called Jardarji, very close to Daura in Katsina state, Nigeria. Female education was not emphasized when I was growing up, so I got very little or no education. When I was 16 years of age, I got married to a man almost twice my age. Within a couple of months, I was pregnant with my first child. In my village, pregnancy is treated as a common happening and not much importance is given to antenatal care or going for checkups at a hospital.
When the time came to give birth, I went into labour for two days before anyone thought of taking me to the hospital. The midwife that attended to me at the hospital did everything she could to help me deliver the baby. But since I was in labour for too long, the baby didn't survive the ordeal. It was a stillbirth.
Losing a baby was tragic enough for me, but I was in for a surprise when later I realized that I couldn't control my bladder anymore. I was leaking urine constantly. I rushed back to the hospital where I had the delivery earlier, to check what was wrong. They told me that they would not be able to handle my case and referred me to the Babbar Ruga Hospital in Katsina, which was a couple of hours away from my village.
At first I thought this sickness (Vesico-Vagina Fistula) was peculiar to me, and I expected to be attended to right away at the hospital. But to my dismay I was put on a waiting list because of the many cases like my own, that required a doctor to operate. Thankfully, two weeks later I had a successful operation.
Two years later, I got pregnant again. And as though I didn't learn from my lesson, again I didn't go for medical checkups. The main reason why I didn't go was because we couldn't afford transportation and hospital fees. Due to these factors nobody pushed for it.
This time I was in labour for two weeks before I could get to the hospital. Right away the midwife advised me to go for a caesarean, but my baby had already died.
Once again I started leaking urine. When my husband noticed that my situation was going from bad to worse, he divorced me and married another woman. Shortly thereafter I went back to queue at the Babbar Ruga Hospital to await surgery. Though the operation went well initially, I didn't fully recover, and soon lapsed back to my previous state.
I moved in with my parents. Though they accepted me, I was stigmatized by neighbours and friends.
Now two years later, I am back in the hospital waiting for my turn to get my third corrective surgery.
Though I cannot count my sorrows, there is one thing that brings me joy through all of this: the opportunity to receive vocational training at Eduvision International Services tailoring programme here in the hospital, while waiting for surgery. I know that when I leave this hospital, I will have a vocation to fall on and will be able to sustain myself for life.
Originally Published in 2007.