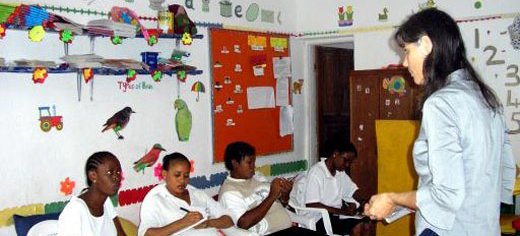 An adequate education, from the foundation stages of early primary through secondary school, sets the tone for success and productivity in adult life. We promote quality care and input for children from all walks of life, regardless of social status, background, ability, and physical or financial challenges.
Through improving the quality of teaching, the level of learning is also improved. The introduction of supplementary curriculums that not only teach the core subjects of English, mathematics, science, and social studies, but also moral, behavioural, and social courtesies, benefit the children both now, and in future interactions with others.
In addition to educational seminars for teachers, we provide training courses for parents and guardians. These courses address child development from early childhood to adolescence. We monitor the progress of our course attendees through home visitation, supplementary studies, and workshops to assist their application of training techniques. To supplement these courses we make educational reference material, books, CDs, and DVDs available to them, to teach moral development.
Many of our educational initiatives are aimed at the disadvantaged in centres for the blind and the physically handicapped, rural farming villages, orphanages, and isolated communities. An effective way to maintain progress is to include the whole community in the educational programme. This has been accomplished by not only offering scholastic training to children, but to all members of the community through providing adult literacy courses.
The targeted communities, upon seeing our dedication to educational development, have responded by maintaining the structures we have put in place and using the materials we have provided. The communities themselves ensure consistent pupil attendance, thus promoting educational development at all levels for the entire community.
One such example is Obiye Academy in Port Harcourt, Nigeria, a private school which uses our educational materials, including our STEPS Programme, as part of their curriculum. The nursery and preschool classes incorporate our early learning materials into their classes. We also have a programme of seminars on early learning for the teachers.
During Women's Week, the principal invited us to speak at the church she pastors, which is also attended by many of the teachers. After enjoying the singing by our children and a motivational talk on a woman's role in the home, many took the opportunity to take home our inspirational materials to help them in their jobs and daily lives.
Originally Published in 2007.