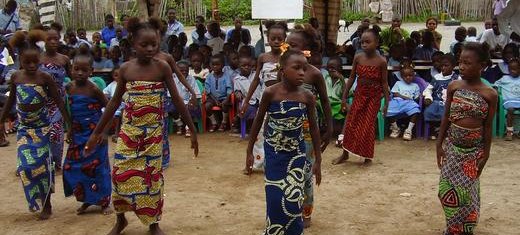 In the year 2001, our organization sent a team to survey Gwako village and other surrounding villages in Abuja. We discovered that many of the people living in these villages were Gwari farmers, who were systematically losing their farmlands to development. Others were settlers from different parts of the country seeking to gain employment in Abuja city. Most of them are poverty stricken.
One third of the population of these villages are children. Some of them help their parents on the farm, some are sent out hawking to make some income, and the very young just roam around the village doing nothing. As a result of these findings, Family Care Eduvision International Services (EIS) decided to set up a free, two-classroom school for the children of Gwako village and the surrounding areas.
In the year 2002, we could not meet the demand of parents wanting to enroll their children in our school, so we decided to add three additional classrooms, for a total of five.
One of the subjects taught is farming and agricultural science, as this will enable the children to continue their farming heritage in a more informed and educated way. Through EIS's support, not only the children, but also their parents, have deepened their awareness toward qualitative education and it has also sparked the parent's interest in education and literacy.
In mid 2004, with grants from the Japanese, French, and Irish embassies, we undertook the construction of nine classrooms and a large hall, which was completed at the end of 2005.
By the beginning of 2006, we had 95 children and 20 adults enrolled, and more than 3,800 people are benefiting by using the school property for community meetings, counseling, and health, hygiene, and Christian programmes, etc.
Progress made in 2006:
In January we introduced secondary education in the school.
We employed 8 new teachers and 3 support staff.
We set up a computer lab, a science lab, and a library.
We enrolled 165 more students for both primary and secondary school, bringing the total number of students in the school to 245.
We held two major teachers' seminars and twenty minor ones.
A delegate from the Japanese parliament visited the school.
We served 4,320 meals in the primary section of the school.
We built three extra classrooms, a library, and a vocational training center in the primary school section of the school.
We organized 40 Bible classes. Also, 1,200 Christian magazines (Activated) were distributed, along with other Christian literature.
In December we held end-of-the-year sport and cultural activities. More than 700 parents and invited guests attended.
Originally Published in 2007.