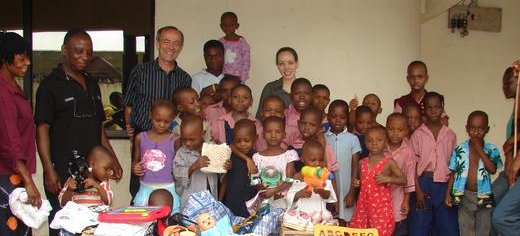 The Family International in Port Harcourt has endeavored to assist our community however possible. Throughout the last two years, various families who have fallen on hard times have received needed food and household items, along with finances for school fees and/or to help meet payments.
Acquiring sponsorship for those in need of medical or scholastic assistance has also been an ongoing project that our unit has undertaken over the years.
One example is Imoh, a fatherless, underprivileged child, who was provided with school fees, initially ten years ago, enabling him to attend elementary school for two years; and then recently to enter college. A very bright young man, he ranked one of the best amongst all the students in his class.
Nwamaka, a teenage girl, was unable to continue her studies, due to deafness in both ears. Since her family's income is low, there was no way that they could afford the expensive hearing examinations and aids for their daughter; so we offered assistance in finding a sponsor. Soon after Nwamaka underwent a complete examination of both ears, and once the tests were finalized, two quality hearing aids were crafted for her personal use.
Since 2006, we have been partnering with Life Time Caring Orphanage with the goal of improving the quality of life of the orphans in its care. Donations of food items, snacks, toiletries, cleaning supplies, shoes, clothes and school supplies are given on a regular basis. Other contributions include brand-new mattresses, a chest freezer, gifts for Christmas and Children's Day and two large whiteboards.
During 2010 we held three charity programs, one organized for Life Time Caring Orphanage on Children's Day, and the other two during Christmas; the first for the children of three orphanages and the second for the Compassionate Centre, run by the Sisters of Charity, for about 70 handicapped children, in collaboration with an enamelware company.
The programs consisted of Christmas carols, interactive songs with the children, dances, stories, snacks and a meal along with individual encouragement and attention for the kids and staff workers. We also gave motivational, instructional talks to the children in an interactive way, complete with questions so they could apply what was said.
Through these programs we were able to encourage the children and handicapped that even though they may not have much as far as a family and suffer from disabilities—they are still very special to God and He loves them. We feel blessed that we were able to touch their lives at this special time of year.
Originally Published in 2011.