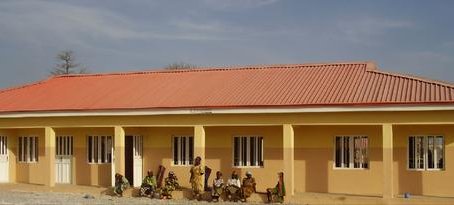 Vesico-Vagina Fistula (VVF) is a terribly dehumanizing condition caused by an obstructed labor. Many women with VVF are from poor backgrounds. Causes include early marriage, negligence, lack of antenatal care during pregnancy, and ignorance.
Many VVF victims are treated like outcasts, especially by their immediate family, even after they have gone through surgical repair. Even after these women have been treated physically through surgical operation, the emotional and mental trauma which follows is not attended to. They stay or hang around the hospital and some enter into prostitution to sustain themselves.
The VVF (Vesico-Vagina Fistula) Vocational Training Center and Recovery Ward that we began building in October 2006 is now completed and up and running. Two of our volunteers spent a week in Zaria, where we completed the final touches on the building itself, as well as on the adjacent kitchen and bathroom. Due to the generous help of our sponsors and donors for this project we were also able to help renovate the old VVF ward next to the new center that was set up, replacing the broken glass windows and repainting the entire wing inside and out.
The inauguration and official handover of the building to the hospital will take place on the 26th of February and we are very excited about all the help that this center will bring to the VVF women of Zaria and the surrounding villages.
The influx of the VVF women who need treatment is steady, and during the week that we were in Zaria conducting the project, six women were operated on and admitted to the ward. As you can see, there is an immense need for care and attention for these women suffering from VVF continues. Hopefully in the future as we continue with our awareness programs and as the women who have recovered from their operations learn how to prevent VVF and spread the word to the other women in their communities, the problem with VVF in this area will slowly subside and with continued help and attention, will disappear altogether.
The following is some of the progress made in 2006:
Fifty young women were trained in our three VVF centers in Nigeria
Fifty sewing machines were donated to the young women who attended the course
Five other sewing machines were donated to one of the centers
Weekly allowance was paid to 40 women for a three-month tailoring course
A new VVF vocational training center and a hostel were built, worth US$57,000 in Zaria
Please join us in praying for the continued health and recovery for each of these women who are either suffering from VVF and the conditions that cause it, or are recovering from one or more operations. They need our help and prayers and together we can continue to make a difference in many lives. Thank you!
Originally Published in 2007.