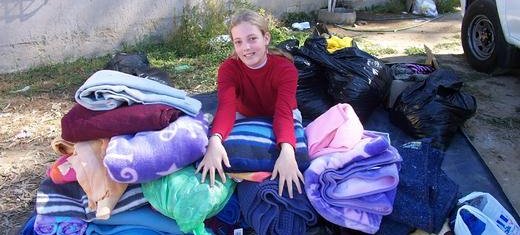 The winter had been particularly cold and we wanted to give all our Sunday school children something to keep them warm, many who attend barefoot and with ragged clothes. We identified the neediest children and gave out 15 warm, fleecy blankets. The next week we gave out fifty more, one to a family.
There were still some children who had received nothing to keep warm, and the weather was getting worse with temperatures below 0ºC at night. When you live in a tin shack and sleep on the floor you really feel it!
We promised the children they would get something the following Sunday, and prayed the Lord would supply some more blankets and winter clothing for the remaining children. We also prayed for extra bread as there had been so little of that as well and by the end of the week we had an abundance of bread--and the problem of how to transport it to the centre!--But still no blankets!
Halfway through Saturday a vehicle drove into our centre with blankets, jumpers, hats, warm trousers, etc. It was a wonderful sight and a real testimony to the people who brought them, when we explained how that God has used them to answer our prayers! The next day, we had such a wonderful time outfitting all the children with blankets, and all 200 children received an item of warm clothing, and bags of bread and other goodies.
Originally Published in 2006.