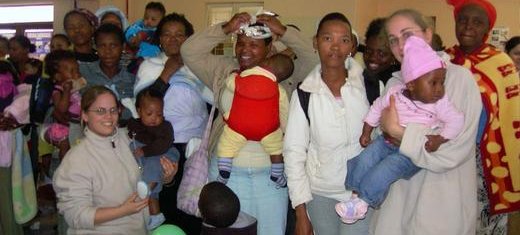 Since the beginning of 2004 volunteers from Project Helping Hand have been visiting homes for unwed mothers and abused women and children. It began with supplying baby needs (cots, strollers, clothes, etc.), and has turned into a ministry of not only providing their physical needs but also one of healing, hope, and inspiration.
Mothers are overjoyed to receive such expensive items as cots and strollers for them and their children. Their enthusiastic reactions and genuine appreciation motivated us to begin supporting them on a regular basis with toys, shoes, and clothing for all ages; toiletries and personal items for the mothers; and varied food items. Each center has also received a set of Christian books and videos from our sponsorship program, as well as personal copies of daily devotional books for every mother. For the children there is now a full set of educational audio-visual materials and storybooks in each home.
Many of the women and children residing in such homes/shelters come from very traumatic situations, with a significant number being rape victims, some as young as 13 years old. We are thankful that we have more to offer them than just food and clothing. The response to our help has been overwhelming.
Here are some of the responses we have received:
I would like to "quote" from one of your leaflets you handed to us on the day you came. It says, "No matter what you have done or haven't done, I love you". That describes how we felt on the day when you came to our shelter to deliver the shoes, baby clothes, cereals, porridge, juice and cots. Many thanks for your most generous donation; it arrived just at the right time.


Thank you so much for the Christian books and videos, as well as the CDs that you donated to us. The children were delighted when they saw the different materials. The crèche teacher is also delighted, as it is hard to keep young children occupied all day when their mothers are at work. Not even the sound of a "sweetie paper" (candy wrapper) could take their attention away from the precious donation handed to them. Thank you."


Thank you so much for blessing us so abundantly once again. The camping cots were a huge blessing!!! As was all the other goodies. Thank you for partnering with us in helping these young women who are in crisis.


Thanks a lot for your contributions during our pregnancy education week. We as the antenatal clinic do appreciate it very much. May God bless you in the work you do, and always. Thanks again. (Antenatal Clinic, Kraaifontein/Durbanville)
Originally Published in 2008.