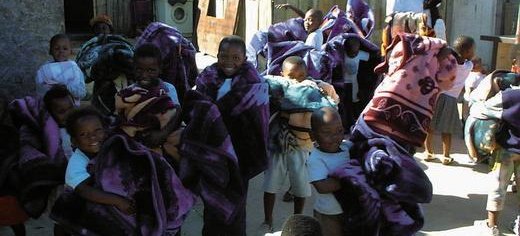 It had been an unusually cold and wet week. In fact, half of our team was stuck in Durban due to snow on the mountain pass between there and home. (This is Africa!) Then we received a phone call saying that heavy rains had washed away many of the shacks in Diepsloot (the squatters camp where we have conducted various ongoing projects for the past several years), leaving many of the five hundred inhabitants homeless. Could we help? It did not seem very likely. I was home alone with the children, and don't drive.
I made a few phone calls, and in a short while we had 200 kg of mealie meal (the staple food for most poor people) promised. Next came a sack of dehydrated chicken casserole. We delivered the food as soon as we were able to arrange transport.
Then better news yet! A company donated 550 quality blankets, worth about US$10 each, and one of our other sponsors offered to transport them for us. When we arrived at Diepsloot with the truck piled high with boxes of blankets, SABC (National South African TV) was there filming the disaster. They followed us around as we distributed blankets to 120 HIV-positive children, 58 to our orphanage crèche (where we have been told by an expert that probably 40% are HIV-positive), 60 to the mentally handicapped project where we teach, another 40 to the aged, 40 to the unemployed women at the food garden we helped organize two years ago, and the rest to other flood victims. It was wonderful to see all those happy smiling faces as they received beautiful new blankets.
We also received more donations of fresh fruit and vegetables and other foodstuffs that week than usual, so we were able to distribute about US$1,000 worth of food between these different projects. When Chris took food to a school where there had been 70 malnourished children, the headmaster informed us that there were now 120 children on the list. Some were faint with hunger. Others, as young as 7, were trying to cook and care for their families because their mothers were too sick to care for them.
The following week, when we attended a service provider's meeting for the welfare organizations working in Diepsloot, we were greeted with a round of applause for our work there. One thing for certain is that the more we give, the more God gives us to share with others in need.
Originally Published in 2002.