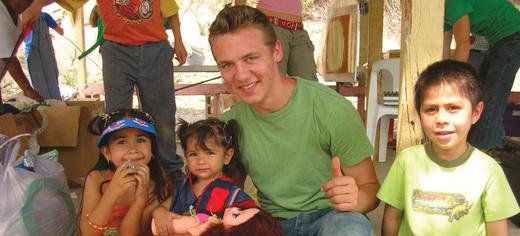 What could be more rewarding than an appreciative smile from a little child?
Dia del Niño (Children's Day) is one of the happiest days of the year in Mexico. It is a special gala focused on children, and is anticipated all year long. Our Family International center hosted three separate celebrations for this unique occasion.
1. Main Children's Day Event
This year, two neighboring Family International centers worked for two months to raise funds for, organize, and host an event for the 250 children from a poor mountain village school, as well as to gather donated items for it. The weather forecast was for storms, but it turned out to be a gorgeous, sunny day and an occasion to remember.
The bare, run-down local park had been transformed into a colorfully decorated fiesta site with flying banners, eight large piñatas, live music, a puppet theater, outdoor game areas, and seating for the audience of about 500. Several friends volunteered to help our 23 Family International members distribute gifts, serve treats, and manage the crowd.
We'd like to thank all of our donors and sponsors whose financial backing made this event possible. The beautiful children's books, tracts, posters, and Conéctate (Activated) magazines for each mother and child were a great hit. Such gifts were a first for many of these humble families, and some said it was the best surprise they had ever received.
The audience joined in on the songs and games presented by our teen band, and after the puppet show, nearly everyone in the audience prayed to receive the gift of eternal salvation.
This event would not have been such a success without our dedicated missionary youth. Their zeal, dedication, and outgoing concern made everything extra fun for the children. The local police and emergency services also attended and helped to ensure that everything ran smoothly.
The whole experience was so very rewarding!
2. Children's Day at the Clinic
The local Family International center has been donating medical equipment to a nearby clinic for three years. This large clinic caters to underprivileged families from the area. We also gave the clinic two sets of the Family-produced Treasure Attic children's video series, one of which the head physician will take to the new branch the clinic is opening in a mountain area.
3. Children's Day Occasion for Friends and Neighbors
Piñatas, candies, cakes, songs, games, and gifts—this was certainly the liveliest Bible Study class in our neighborhood yet! Twelve Family International volunteers hosted a Children's Day event for the 50 families in our small community. Fun and games for the children and Conéctate magazines for all helped our friends and neighbors feel loved and appreciated.
Originally Published in 2007.