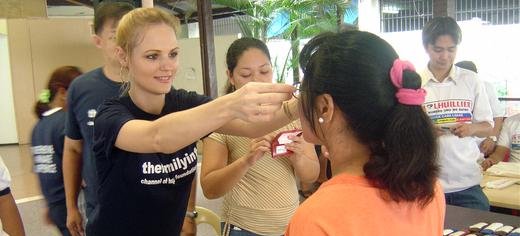 "I was in prison and you came to visit Me." – Jesus (Matthew 25:36b)
In early August of 1997, in a column in one of the national newspapers, a cabinet secretary made a plea for people to visit the inmates at the Correctional Institution for Women (CIW), the only all-women correctional facility in the Philippines. She explained that many of the women incarcerated there were lonely and needy, as they have no families or friends to visit them and provide for their special needs. In answer to this plea, we decided to visit this facility to see how we could help.
Upon arrival, we found that there were over 1000 women in the prison. Some were from other Asian countries, as well as North America and Africa.
We started our project with counseling the inmates, and then graduated to weekly Bible studies. As time went on, we also started bringing donated toiletries, such as body soap, shampoo, hair conditioner, deodorant, and cologne for those who don't have families or friends visiting or helping them.
Since then we have taken a major role in the rehabilitation program of this institution. Three times each year we take part in the institution's Foundation Day on February 14th, the National Correctional Consciousness Week in October, and during the Christmas season when we hold a program for and with the inmates.
Other services that we've provided, thanks to the help of various companies, are medical missions, which consist of cataract operations and the distribution of free prescription eyeglasses.
In the more than ten years of working with the administration and staff of this institution, we have seen women who have been released––some for having served their sentence, others on conditional pardon––lead productive and happy lives, and many of them are helping us in furthering our volunteer efforts.
Originally Published in 2009.